ManyRoads division of eirenicon llc is pleased to announce a $250 website installation and setup package for genealogists (professional, amateur, and family).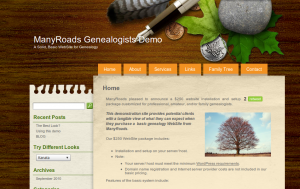 Our basic $250 package includes:
Installation and setup on your server/ host.
Note:

Your server/ host must meet the minimum WordPress requirements.
Domain name registration and Internet server provider costs are not included in our basic pricing
It has been a long journey but we finally have converted our last XOOPS site to WordPress.  Although XOOPS was a good and useful platform for us for several years, we are much happier using WordPress!

Should you wish to view our WordPress based sites you may view a list of them at AmbientWebs.

We would especially hope to draw your attention to our demonstration and technology proof of concept sites on the top of the same page.
As noted elsewhere on this site, eirenicon does support platforms other than WordPress, such as Magento for advanced eCommerce.
Effective 21 March 2008, eirenicon llc. no longer supports any eirenicon developed XOOPS or XOOPS-related products.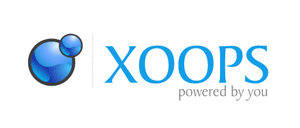 Our commitment to the XOOPS community formally ended in April of 2007.
Although all of our products remain in the open source realm, they will no longer be available through eirenicon. We hope that those who choose to use our themes, etc. continue to enjoy them and develop them further.